NO MORE SLOUCHING WITH THIS POSTURE CORRECTOR
Supporting all the right areas to align your neck and spine, it helps train your posture to maintain its upright position.
IMPROVE POSTURE
Our posture corrector works by training your muscles and spine to return their natural alignment, allowing you to stand head to toe the way nature intended.
REDUCE BACK PAIN
Bad posture left unchecked can cause pain and lead to nerve damage. Our posture corrector, coupled with physical therapy, aids in the treatment of back pain.
MAXIMUM COMFORT
Our durable and comfortable design allows effective assistance while being comfortable to wear.
INVISIBLE ADJUSTMENT WITH VISIBLE RESULTS
Our posture corrector fits seamlessly under your clothes for discreet daily adjustments that can yield noticeable results.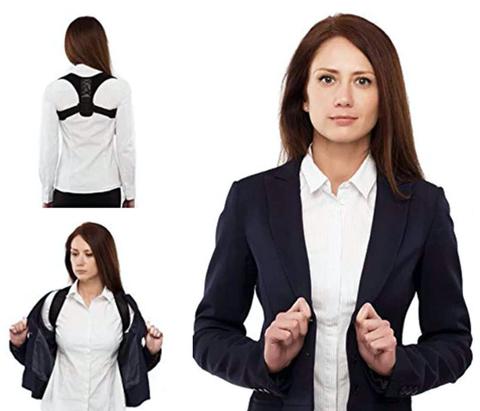 WHY DO I NEED THIS?
Poor posture can be detrimental to one's health! If you are in front of a screen gaming or working nonstop, chances are you are suffering from some degree of slouching or poor posture. Even athletes can suffer from back and posture issues due to muscle imbalances. The Posture Corrector is a patented solution that works for males, females, athletes, or ordinary people alike.
Posture Corrector is not about a temporary fix. It's about gradual adjustments overtime for permanent correction of bad posture. Your muscle memory will begin to relearn correct alignment and stance for your body as you wear the Posture Corrector – so even when you take it off, you will be standing and walking naturally in a healthier, more correct manner.
SIZING INSTRUCTIONS
Small (S): For kids or small adults 90 lbs – 140 lbs (40 kg – 64 kg)
Medium (M): For adults up to 150 lbs – 180 lbs (68 – 82 kg)
Large (L): For adults between to 181 – 365 lbs (83 kg – 120 kg)
Extra-large (XL): For adults over 365 lbs (120 kg)
LOOK CONFIDENT, FEEL REFRESHED, AND LIVE HEALTHIER!