Combat Poor Posture and Dreadful Back Aches From Sitting All Day!
Sitting for long periods puts enormous pressure on both our lower back and overall spine. Say goodbye to aches and discover the ultimate in sit-down comfort with our premium ergonomically-designed seat cushion.
 "I get bad aches from sitting all day, so I ordered a cushion to try.
Immediately, the tension in my back was gone. GONE. It is truly a lifesaver!" – Julia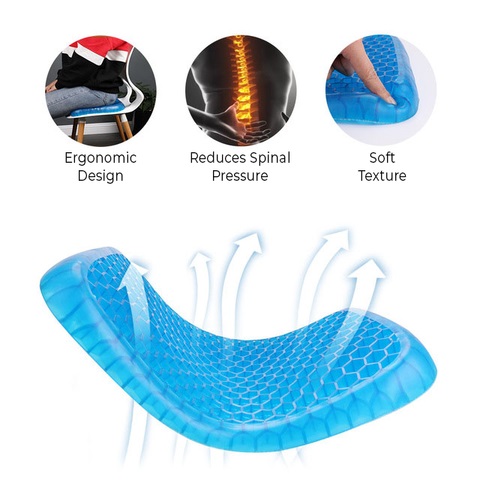 IMPROVE BLOOD FLOW – Conforms to your body shape and reduces pressure on critical areas, significantly improving blood flow to the legs and feet.
CORRECT POSTURE – Provides optimal support to your lower back and spine, promoting healthy posture and preventing aches.
ERGONOMIC DESIGN – Honeycomb design keeps the cushion cool without compromising comfort. No more seat sweat!

 MULTIPURPOSE – Perfect for home, office, & vehicle use. Lots of our customers order multiple cushions so they can always have one close by.
PREMIUM QUALITY – Made with medical-grade gel to retain the original shape and to offer maximum comfort.
FREE COVER INCLUDED – Each cushion comes with its own washable, black protective cover.